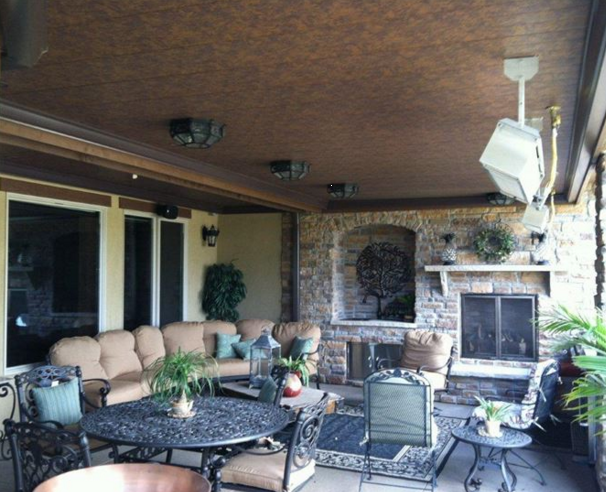 When it comes to enjoying our decks and the outdoors, we typically think of summer time full of barbecues and afternoons sipping margaritas while soaking up the sun. Your deck can still be your own personal sanctuary and a fun social hotspot for friends and family. After you've weather proofed your deck with one of Colorado Deck Drain Experts deck drains, here are some ways to get the most out of your deck this fall:
Add Curtains and Cozy it Up
Curtains are not only decorative, but they are also practical. Add color and a sense of privacy to your deck area, while shielding your guests from the breezy fall weather. Add more pillows and blankets for not only a lush, inviting look, but also to keep guests warm and comfortable while enjoying the deck on chilly fall nights. Extra pillows can also be used by guests lounging on the deck itself. Thick faux fur blankets make the best additions!
Light the Fire
Add a fire pit to your deck. Not only will it be an extra source of heart, but it also creates a cozy ambience specific to fall, and gives you the opportunity to enjoy camping treats such as s'mores. Fire pits come in many styles and sizes so you can have one that fits your needs or instead of a fire pit, make a fire bowl, incorporating the on-trend glass or fire rocks.
Create Atmosphere
One of the best and inexpensive ways to create a cozy fall atmosphere on your deck is candles, lanterns, and other luminaries. Candles also add extra light to the area (since the sun is setting sooner). Incorporate pumpkins, in-season flowers and foliage to change up your deck for fall. Mason jars, colored glass, and pottery are also small, and in many cases, inexpensive ways to create a cozy fall atmosphere. If you want to wow your guests, incorporate your house colors, or colors that accent your house color well in your deck accessories.
Heat it Up
Most guests won't be opposed to spending more time out on the deck on chilly fall nights if there are heaters. Though a fire pit can add heat, outdoor heaters are more efficient and can heat your area more thoroughly than a fire. Get free standing heaters or wall mounted ones, combine those with curtains, and you and your guests will stay warm and cozy!
Channel Your Inner Martha Stewart
Once you've created your cozy fall-inspired atmosphere for your deck, channel your inner Martha Stewart and serve up warm fall eats and drinks. Offer classic fall favorites like hot chocolate, and cider, or spice them up with a fall or adult beverage twist; and finish off a perfect warm beverage by serving it in a fall-themed or colorful ceramic mug, and with a pumpkin chocolate chip cookie!
Now you are all set for a great fall season outside! Don't forget to contact us at Colorado Deck Drain Experts if you still need to set up your deck drain. We are the deck drain contractors dedicated to serving Brighton and the surrounding areas with high-quality and aesthetically pleasing deck drains.