What do you love about your deck? Do you love the fact that you have the ability to spend quality time with friends and family day or night? Do you love grilling out in the fresh air with your dogs running around the yard with their favorite toy? Do you love sipping on your favorite wine while watching the sunset? It doesn't come as a surprise that you love these types of activities; everyone who owns a deck should be using it as much as they can when weather permits. But, what if weather didn't have to cooperate with your plans?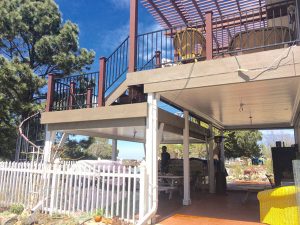 Say "So Long" to Weather Delays
Stop planning your get togethers and BBQs around the weather. Understandably, Colorado has some pretty crazy weather, and if you're not careful, it can ruin the outdoor plans you set three weeks in advance in the blink-of-an-eye. But, what if weather didn't have to ruin the plans you previously set? With the deck drainage system available from Colorado's finest deck drain installers here in Brighton, you won't have to worry about the weather turning on you and your set-in-stone plans.
What To Expect
A deck drain is an installation to your deck that will allow you to use the area beneath it. Whether you'd like to have a cookout on the ground level, or you'd like to escape the rain while enjoying wine with your friends, you can do so if you have a deck drainage system installed beneath your deck. Luckily, you have a couple different choices when it comes to the system of your dreams. Choose between the Contemporary or the Concealed deck drains available from Colorado Deck Drain Experts. We offer competitive prices and are standing by for your call.
Contact us to learn more and schedule a FREE consultation!
Make your deck more accessible from the underside. Go ahead and give our experts a call to learn more about the design, layout and options you have when you choose to have an effective and usable deck, top and bottom. Feel free to peruse our galleries to learn more about the Dry-B-Lo Concealed Deck drain System and the Dry-B-Lo Contemporary Deck Drain System. Both are an excellent choice if you're wanting to spend a few extra hours on your patio enjoying what Mother Nature has to offer. If you have any questions or concerns, please don't hesitate to give us a call!